Lorem ipsum dolor sit amet, consectetur adipiscing elit, sed do eiusmod tempor incid idunt ut labore et dolore magna aliqua. Ut enim ad minim veniam, quis nostrud exerc itation ullamco laboris nisi ut aliquip ex ea commodo consequat. Duis aute irure dolor in reprehenderit in voluptate velit esse cillum dolore eu fugiat nulla pariatur. Excepteur sint occaecat cupidatat non proident, sunt in culpa qui officia
deserunt mollit anim id.Lorem ipsum dolor sit amet, consectetur adipiscing elit, sed do eiusmod tempor incid idunt ut labore et dolore magna aliqua. Ut enim ad minim veniam, quis nostrud exerc itation ullamco laboris nisi ut aliquip ex ea commodo consequat. Duis aute irure dolorin reprehenderit in voluptate velit esse cillum
Oda House in the East Village
Oda House offers a peek at a cuisine many New Yorkers, even diehard foodies, may not be familiar with. The restaurant in Alphabet City, which opened about two months ago, showcases dishes traditional to Georgia—as in the former Soviet republic, not the state down South.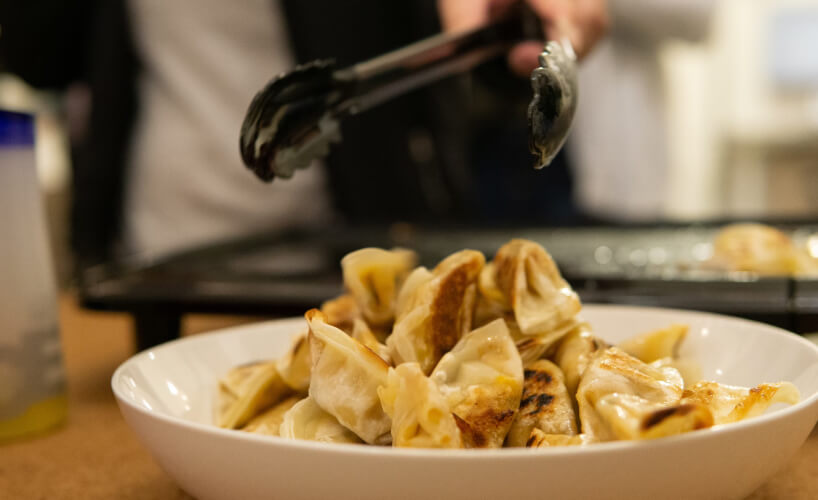 Given Georgia's location at the crossroads of Europe
Fried potatoes with caramelized onions, garlic, oyster & button mushrooms, garnished with fresh.
It's "different from any other food," says co-owner Beka Peradze, though he adds: "We describe it as similar to Mediterranean."
Middle East and Central Asia, it makes sense that its cuisine offers a lot of variety and flavor.
I always say, when somebody is askin` me: "Perfect cuisine is like a separate kind of art…"
Lorem ipsum dolor sit amet, consectetur adipiscing elit, sed do eiusmod tempor incid idunt ut labore et dolore magna aliqua. Ut enim ad minim veniam, quis nostrud exerc itation ullamco laboris nisi ut aliquip ex ea commodo consequat. Duis aute irure dolor in reprehenderit in voluptate velit esse cillum dolore eu fugiat nulla pariatur. Excepteur sint occaecat cupidatat non proident, sunt in culpa qui officia erunt mollit anim id.Lorem ipsum dolor sit amet, consectetur adipiscing elit, sed do eiusmod tempor incid idunt ut labore et dolore magna aliqua. Ut enim ad minim veniam, quis nostrud exerc itation ullamco laboris nisi ut aliquip ex ea commodo consequat. Duis aute irure dolorin reprehenderit in voluptate velit esse cillum